What is a Varicose or Venous leg ulcer
what causes venous leg ulcers a varicose or venous skin ulcer is a sore on your leg that's very slow to heal, reveal the underlying flesh and usually because of weak bloodcirculation in the limb.
They can last anywhere from a few weeks to years. You may hear a doctor or nurse call them "venous leg ulcers."
Venous leg ulcers are the most common type of skin ulcer. They mainly occur just above the ankle. They usually affect older people and are more common in women.
Venous leg ulcers become more common as you get older. Most are painless but some are painful. Without treatment, an ulcer may become larger and cause problems in the leg.
Skin inflammation (dermatitis) sometimes develops around a venous ulcer.They can sometimes lead to more serious problems if you don't have them treated. But there are steps you can take to prevent them from happening.
Non-venous skin ulcers are less common. For example, a skin ulcer may be caused by poor circulation due to narrowed arteries in the leg, problems with nerves that supply the skin, or other problems. The treatment for non-venous ulcers is different to that of venous ulcers.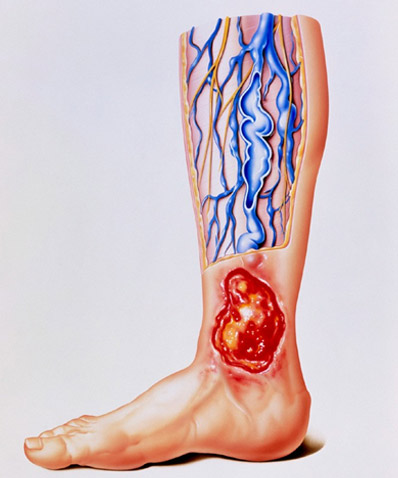 What is a Varicose or Venous leg ulcer